Success story: the saltpans of Sečovlje in Slovenia – "Salt is the sea that could not return to the sky"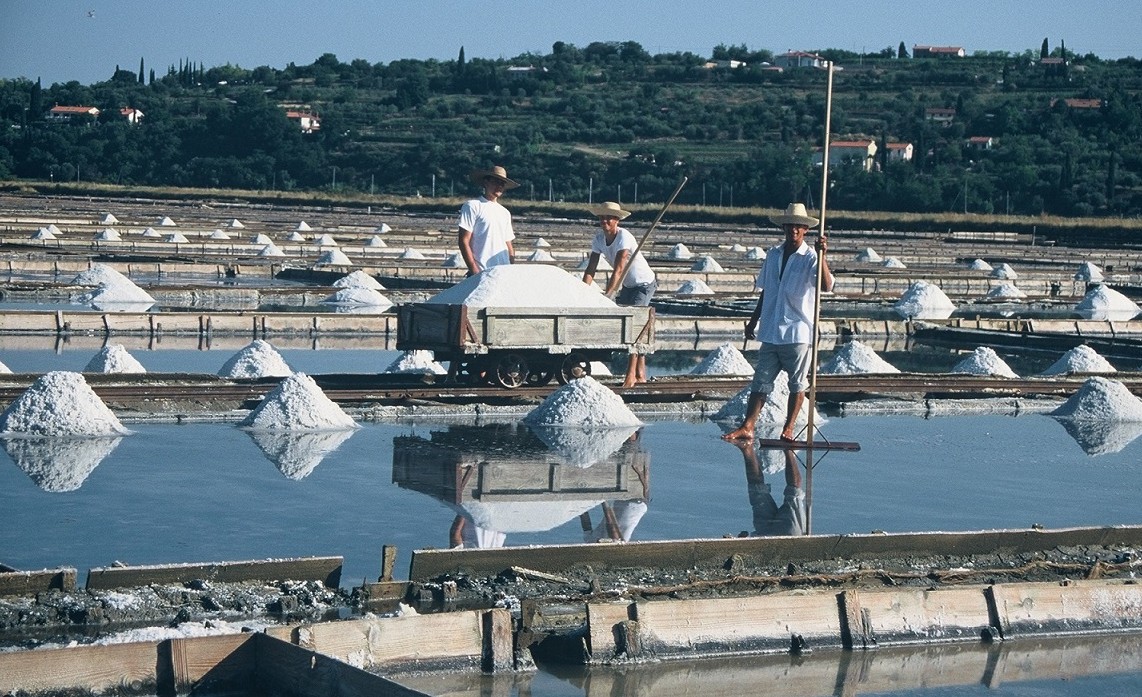 On the coast of Piran Bay in Slovenia, where the Dragon River flows out into the Adriatic Sea, salt is produced using centuries-old processes. They involve entirely natural crystallisation, working by hand and with tools and procedures used since the 15th century. Over the years, a number of different habitats have evolved, all of them dependent on a salt-related environment and the human presence and practices. In the oldest Ramsar site in Slovenia there are two distinct parts of the salina, Lera and Fontanigge. Up to the late 1960s the flooding of both areas was controlled, and active salt production was taking place in both of them. After that time, salt production in Fontanigge stopped and the area was partly left to nature, providing great diversity of habitats and hosting several fauna species (272 bird species have been established in the Sečovlje salina, with some 90 breeders among them). Fontanigge today is the core conservation area of Sečovlje Salina Nature Park, which was established in 2003.
In Lera saltpans, although salt is intensively produced, the method used is traditional, allowing the coexistence of man and nature, salt and culture. On the bottom of salt-fields the salters cultivate the 'petola', a special type of biosediment that prevents sea mud from intruding in the salt and also stops separate ions from building in salt. This results in an exceptional quality of salt. An entire line of salt-related products has been developed, which are distributed in a number of dedicated shops in Slovenia and many other countries, among which a very interesting book called the 'Piran Salt'.
Sečovlje Salina Nature Park is the first state-designated Park in Slovenia whose management was assigned to a commercial company, Soline d.o.o. The company is obliged to implement a management plan approved by the Government, in exchange for the right to exploit income-generating activities within the territory of the Park, such as salt production and tourism. The management plan should be strictly implemented so that biodiversity, the protection of natural assets and cultural heritage will not be endangered in any way and that the salina ecosystem will remain intact.
The cultural aspects of this exceptional wetland are manifested in the heritage of the traditional salt harvesting practices and can be experienced watching the salters harvesting the salt, in many related cultural events such as 'The fiestas of the salters' or the St. George – Saltpans Feast, as well as in the salt making Museum.
If you want to know more about the cultural and natural heritage of the Sečovlje Salina Nature Park you may visit its new website. Of special interest is a documentary with the title "Man and Nature in Sečovlje salt-pans", produced in the framework of the of LIFE MANSALT project.